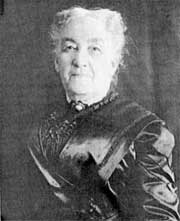 Virginia Gay Hospital was named after our founder and benefactor, Virginia Gay, who bequeathed a generous gift of $50,000 to the City of Vinton in 1914 to establish a community hospital.  This important gift, valued at more than $1,000,000 today, provided the necessary foundation for what was to become the Virginia Gay Hospital in 1923.
"I have an affection for Vinton and its people because most of the years of my life were spent in it and among its people. They were my happiest years. For these reasons, I have made this provision for a hospital in Vinton. It shall be known and designated as the Virginia Gay Hospital." ~ Virginia Gay
For nearly a century, Virginia Gay Hospital has served the health care needs for generations of families.  Throughout our long history, Virginia Gay Hospital has undergone substantial changes and improvements, largely through the generosity of community members, resulting in exceptional care and underscoring the healing tradition made possible by Virginia Gay.
For more information see our detailed History of Virginia Gay Hospital.